Tempeh and Veggie in Umami Miso Sauce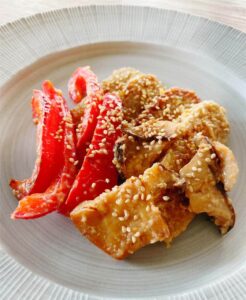 Experience the culinary harmony of East meets West with our unique marinade recipe, which features Clark Fermentation's Buckwheat Tempeh as its star ingredient. Based in Rotterdam, Clark Fermentation has created a delightful twist on traditional tempeh—instead of soy, they use buckwheat to produce a crunchy, hearty tempeh that holds its texture even when marinated.
This innovative choice of tempeh fuses beautifully with our rich miso sauce, comprised of brown miso and amazake, and infused with freshly grated garlic. This blend offers a balance of nutritious fermented ingredients, including amino acids, B-vitamins, and gentle sweetness, further enhanced by the immune-boosting properties of garlic. It's a delicious and nutritious dish that elevates not just your palate, but also your wellbeing.
Ingredients / for 2 Servings